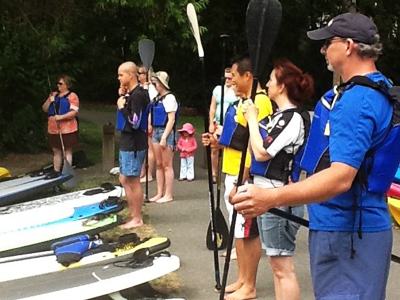 WhatsSup

-Kenmore SUP Club

WhatsSup-Kenmore Sup Club proudly offers lessons to get prospective paddlers out on the water safely. Our classes are held at Squires Landing in Kenmore, near our other two rental locations (Log Boom Park and Bothell Landing Park). Our Sup classes are designed for the dedicated beginner. Participants will learn about Sup history, the different styles of boards, standing posture, paddle strokes, turning, rules of the road, and other important techniques. There will be an opportunity for all participants to paddle a variety of boards during class. All classes are held in a group setting, in hopes of meeting new friends to paddle with!
SUP Board Classes
Class I age 16 to Adult
Class II age 8 to 15
Cost $70.00
Prices do not include sales tax. Major credit cards welcome. Visa, Mastercard & Discover.
What To Expect
Sup classes are two and a half hours, but could vary with additional time depending on the group's comfort level. Each class includes a one hour paddle credit, to be held on a future day. Each credit includes Sup board, paddle, and PFD (personal floatation device). Credit to be redeemed at Squires Landing.
For each class make sure to bring a towel, swimsuit, extra clothes and a water bottle. Please leave valuables at home! All participants must know how to swim and are required to complete our liability waiver. Under 18 will require a parent/guardian signature.
Squires landing also offers dragon boat paddling , kayak racing and much more!