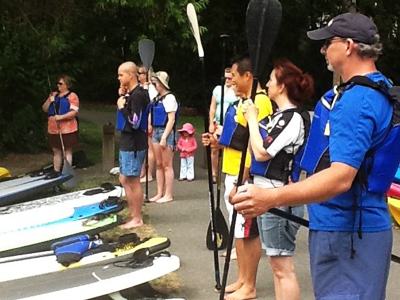 WhatsSup Club
Whether you're a first timer or seasoned paddler, this group is for those who want to get on the water, have fun and meet great people.
The membership cost is $100.00 a year, and includes three paddles a month. You can enjoy your paddle beginning as early as 9 AM during the last three Saturdays of the month, starting on the last Saturday in March and continuing through October. Boards, paddles and pfd's are included in your membership cost. However, if you provide your own equipment, your yearly membership fee will cost only $50.00. Please dress appropriately. An additional $20 annual KWAC Membership fee must be paid to qualify for membership package.
To reserve your spot please email us at surf@whatssup.net . Don't delay – space is limited.
SUP Board Classes
Cost $59
Prices do not include sales tax. Major credit cards welcome. Visa, Mastercard & Discover.
What To Expect
Sup classes are one hour, but could vary with additional time depending on the group's comfort level. Each class includes a Sup board, paddle, and PFD (personal floatation device)
What to bring: towel, swimsuit, extra clothes and a water bottle. Please leave valuables at home, locker rentals are available. All participants must know how to swim and are required to complete our liability waiver. Minimum age is 12 under 18 will require a parent/guardian signature.