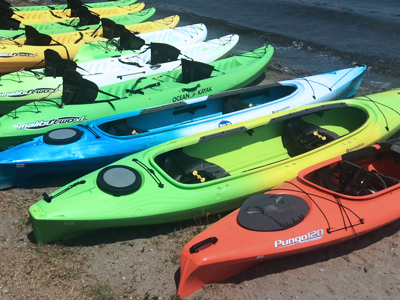 Bothell & Kenmore Kayak Rentals
We offer single and double (two person) kayak rentals. Our kayaks are great for two adults and one small child. We offer a variety of kayaks - sit-on-tops are the most popular: easy to get in and out! We supply the paddles, PFD's for all rentals, and, of course, instruction.
Come and see the WhatsSup crew at Bothell Landing & Log Boom Park in Kenmore! As an added bonus, canoes are available at our Bothell location. Reservations required.
Must be 18+ years or older to rent.
Rental Pricing
Hourly
Single Kayak (sit on top)
$20
Double Kayak (sit on top)
$24
Single Kayak (sit in)
$26
Double Kayak (sit in)
$30

Canoes

Paddle Board

Hydrobikes

$28

$20

$30
(PFD) Personal Floatation Device and Paddle are included with rental.
If you need a take away rental call us for more info. (425) 417.8637
Prices do not include sales tax. Major credit cards welcome. Visa, Mastercard & Discover.
(WE DO NOT PRO-RATE OUR HOURLY RENTALS)
(Prices subject to change without notice)
Log Boom Park closed due to park contructIon
( ATTENTION ) WHEN YOU BOOK LOG BOOM PARK YOUR LOCATION WILL BE AT RHODODENDRON PARK IN KENMORE.
Book in Log Boom Park
Book in Bothell Landing
Lessons
Don't know how to use a Kayak? No problem! All kayak rentals come with basic instruction!