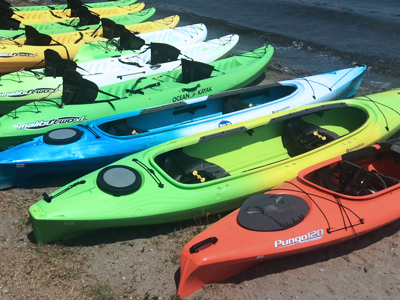 Bothell & Kenmore Kayak Rentals
ALL RENTALS MUST BE RETURNED TO THE LOCATION RENTED FROM
ID IS REQUIRED AT CHECK IN!!
We offer single and double (two person) kayak rentals. Our kayaks are great for two adults and one toddler 5 years or younger. We offer a variety of kayaks - sit-on-tops are the most popular: easy to get in and out! We supply the paddles, PFD's (30 lbs and over) for all rentals, and, of course, instruction.
Come and see the WhatsSup crew at Bothell Landing & Log Boom Park in Kenmore! As an added bonus, canoes are available at our Bothell location. Reservations required.
Must be 18+ years or older to rent. Under 18 parent must accompany minor on the water.
Dogs ok if 30lbs and under
Rental Pricing
Hourly
Single Kayak (sit on top)
$26
Double Kayak (sit on top)
$30
Single Kayak (sit in)
$28
Double Kayak (sit in)
$36

Canoes

Paddle Board

Hydrobikes

Boogie Boards

Bicycle Beach Cruiser

Rowboat (Log Boom Park only)

$30

$26

$30

$6

$12

$30
(PFD) Personal Floatation Device and Paddle are included with rental.
If you need a take away rental call us for more info. EMAIL US : Surf@whatssup.net
Prices do not include sales tax. Major credit cards welcome. Visa, Mastercard & Discover.
(WE DO NOT PRO-RATE OUR HOURLY RENTALS)
When booking make sure you book the right City you want to rent!
Log Book Park Located in City of Kenmore
Bothell Landing Located in City of Bothell
(Prices subject to change without notice)
Book in Log Boom Park
Book in Bothell Landing
Lessons
Don't know how to use a Kayak? No problem! All kayak rentals come with basic instruction!